About George
All About a Voice Actor at Large*
Continuation from the main page. I've been all about shouting into electrostatic cylinders as a voice actor for going on 15 years now.  It all started one day when working at a telephony company. One of the clients requested having their inbound automated system have a human voice for all the prompts.  It was one of those comedic moments where every hand in the room was suddenly pointing at me and I was up.  After spending a couple days in a back room with a teeny tiny PC stick microphone, I had officially done my first gig. The seed was planted.
I never knew that trying to make a fast food drive-thru more entertaining was going to lead to such auspicious and lofty heights!  The youth and enthusiasm continues to this day.
The beat goes on
My roles have been a combination of two things.  Voice acting and also running many aspects of a small durable medical equipment company.  The company is a year shy of turning 50 (note: I am NOT) and there are not a lot of small businesses that can make that same claim in this region. Hooray for longevity!
When not talking/singing into microphones and installing equipment, I fill my free time with recording music, mixing albums, singing in barbershop quartets, and trying my darndest to keep up with my wonderful family.  Married, two kids, and could not be more full of gratitude. And also music.  Lots and lots of music.
If you listen really really hard, my voice isn't too difficult find.  Medical and scientific narration, corporate videos, IVR / On Hold messages, television, video games, movies, and more!
Swing and a miss!
If – by some strange happenstance – you are looking for someone who can promise high quality and quick turnaround for all your project needs, please feel free to send me an email or even give me a call.  I'm right here.  Waiting.  By the phone.  It has one of those old rotary things on it that clicks a bunch.
* that wasn't supposed to have anything to do with my current belt size and I'm almost positive there's some serious Freudian something happening there.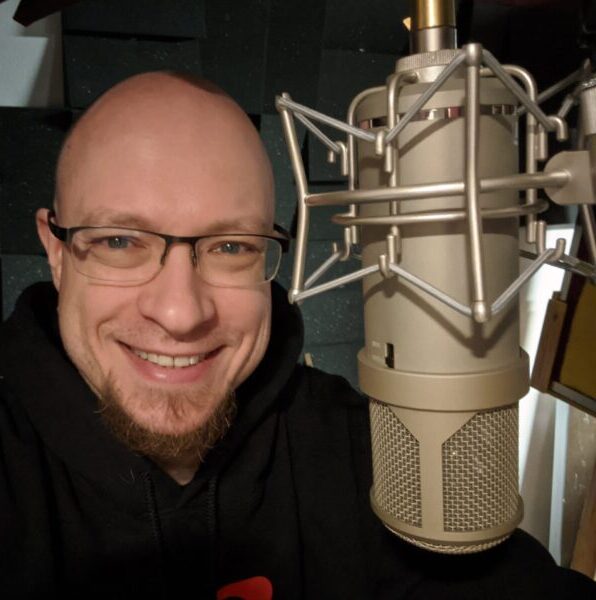 Why work with me anyway?
You need voices for your projects fast and I am here for it; Same day or next morning
Having it done right the first time isn't unpleasant
Pristine quality audio makes your life so much easier
This week you need warm and inviting, next week exciting and upbeat. Check!
Your clients want tweaks made and you need them yesterday. Gotcha!
You have a soft spot in your heart for bald baritones
( ok maybe not that last one)
How do we get this ball rolling?
( that was a bald joke, wasn't it? )
In the top line that will not go away no matter how hard you try is a link to an email address and even a phone number! Drop me a line or give me a ring. Or I guess the proper terminology now is "Give me a ring tone." Those things don't actually ring now. They do buzz though. So Give me a buzz. There we go!